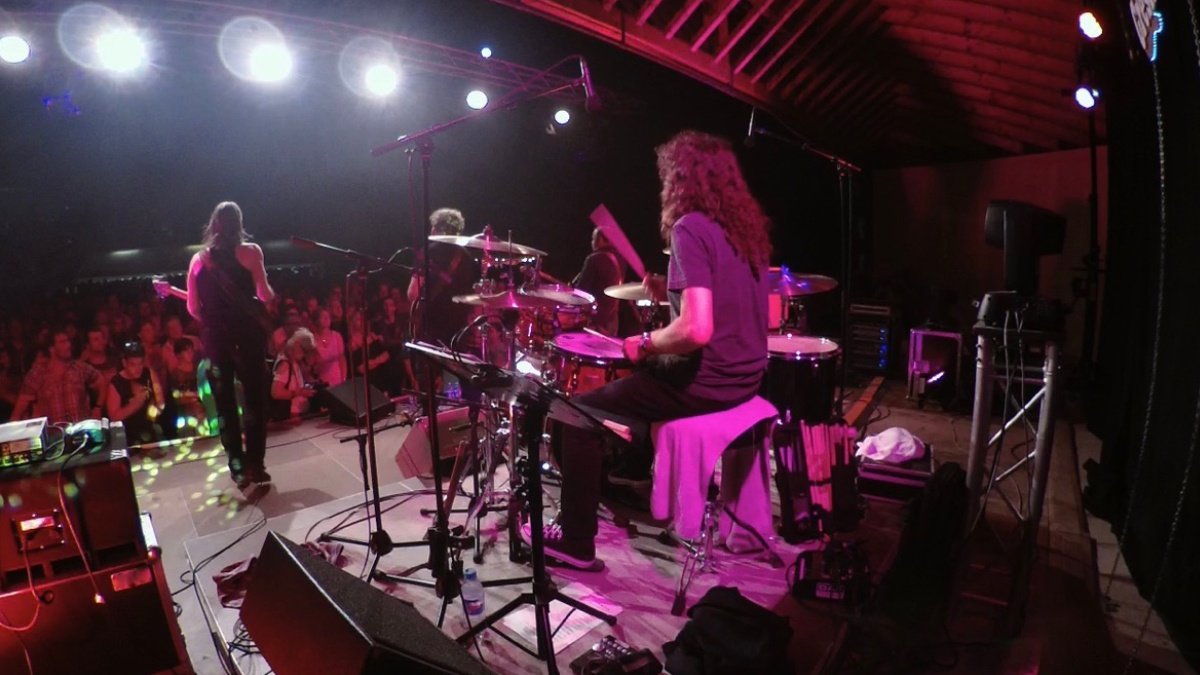 Musician & Drummer Artist
Born in 1963, with a commercial mother in records and big brothers who are fans of rock, his passion for music begins at a very young age.
At 13, he started drums (Gary) in his parents' cellar by playing his scales to the sound of vinyl from the Wings, Paul Chapman, Chicago or Status Quo…
Between 1979 and 1985, he performed in colleges, boums, MJC, clubs, balls and other festivals, through various Rock, Pop Music and Variety groups.
He went into exile in 1987 to join the intensive courses of  Musicians Institute of Technology at Hollywood, and  Grove School Of Music in Los Angelès  where he studied with musical great teachers and players (Ralph Humphrey, Joe Porcaro, Luis Conte, Chuck Silverman, Steve Houhghton, Efrain Toro, Gary hess, Emil Richards…)
A graduate of these two prestigious schools, Eric sails from 1987 to 1991, between France and California, multiplying the most diverse musical experiences.
At the end of 1991, when he returned to Grenoble, he began new collaborations with band and artists on stage and recording studio, and got down to writing several teachning books for drums.
In 2008, he moved to comfortable professional premises which again enabled him to diversify his musical activities, particularly in terms of recordings.
Concerts all over France, Congo, Tunisia, USA, Belgium, Switzerland, Italy, Thailand, England…
Eric specializes in Current Music as Rock, Blues, Pop Music
To Geoff Eymeric (1945-2018) Sound Engineer The Beatles, Mc Cartney, Elvis Costello… 
Session A.Project – SAE Paris (2012)
MUSICAL COLLABORATIONS (non-exhaustive list)
Anthony Stelmaszac, Benoit Sourisse, Benoit Vanderstraeten, Billy Child, Bob Iannone, Christophe Mannarelli, Cincinnati Slim, Claude Langlois, Cyril Pico, Dominic Earl, Dominique Di Piazza, Eric Francavilla, Eric Starczan, François Laizeau, Franck Marco, Franck Tortiller, Gilles Bioteau, Greg Zlap, Guy Broglé, Ian Prowse, Jack Bon, Jamie Wood, Jean Claude Rapin, Jean Michel Cazenave, Jean Marie Louche, Jean Philippe Roux, Jennifer John, Little Bob, Malcolm Potter, Marco Pandolfi, Marine Bercot, Miguel Fiannaca, Miguel Sanchez, Nasser Saidani, Nicolas De Dominicis, Nina Van Horn, Norbert Nono Krief, Patrice Guers, Patrick Liotard, Paul Mindy, Percussions & Claviers de Lyon, Peter Nathanson, Pierre Drevet, Remy Chaudagne, Sandrine Marchetti, Sebastien Charlier, Slim Batteux, Steve Houghton, Thierry Anquetil, Yannick Deborne, Yannick Robert, Yael Mendel…
TEACHER
Teacher, educational & artistic director of multiple internships, regular participation in various clinics, master classes and other jury, author of many methods.
CLINICS & MASTER CLASS (liste non exhaustive)
National Tama Drums Schools, Paris Music Fairs, TIP, Mogar, Hoshino BV, Bagshow, F.I.P.A, Vittel, Una Volta (Corse), Suoneria (Italie), Tam Tam (Montluçon), Grenoble Jazz Festival, Festival Grésiblues (Isère), PercuPassion (Rhône), C.M.C.N & M.A.I (Nancy), C.M.A (Valenciennes), I.U.T/S.R.C (Rhône), Fnacem (Hautes Alpes), Rythmes (Clermont Ferrand), P.A.S (Paris), Les Percussives,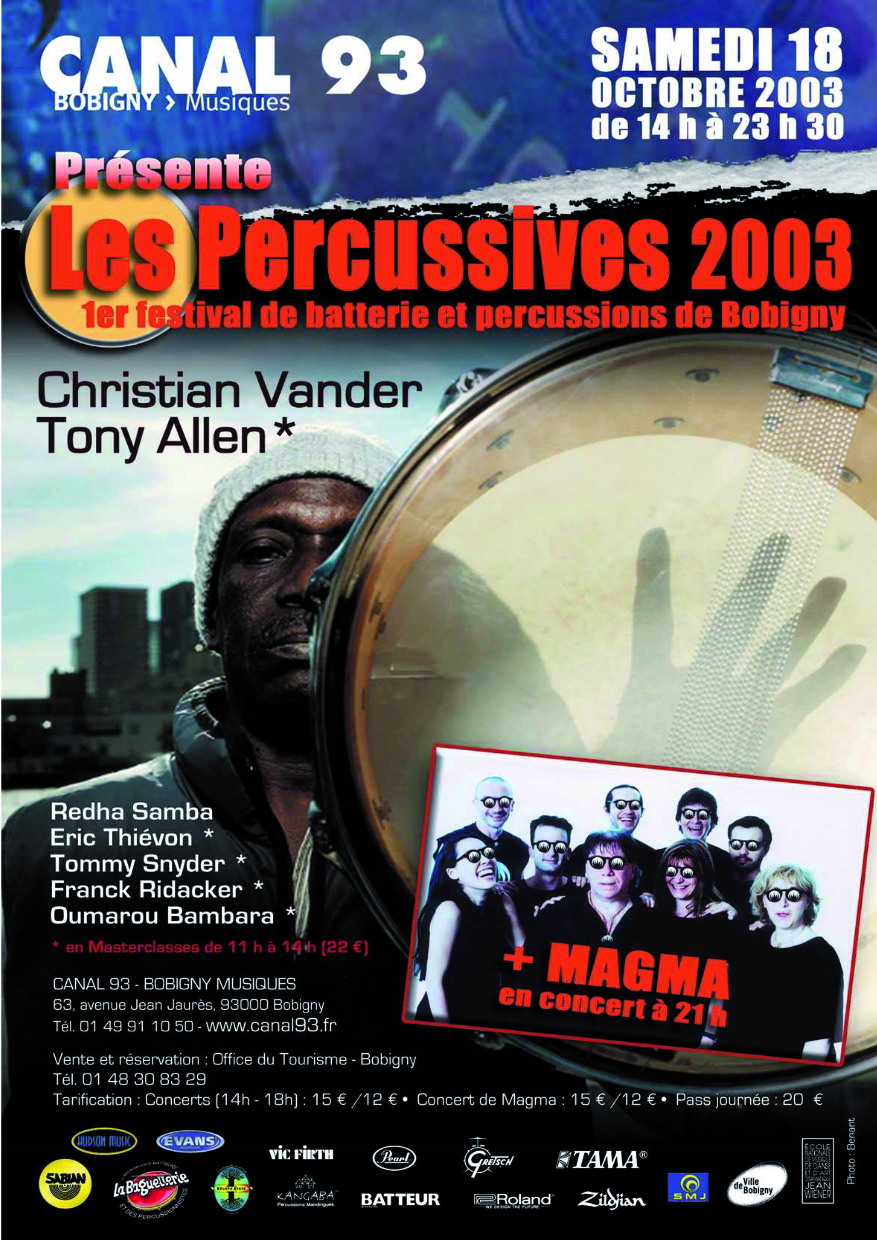 PRODUCTION MANAGER
Coordination of Concerts & Master Classes of International Artists
(non-exhaustive list)
Adam Deitch, Alain Caron, Andy Timmons, André Ceccarelli, Anika Nilles, Aric Improta, Bernard Purdie, Bill Bruford, Chuck Silverman, Dave Weckl, Dick Verbeuren, Efrain Toro, Felix Lehrman, Georges Paczynski, Giovanni Hidalgo, Jeff Boudreau, John Blackwell, Luis Conte, Mike Portnoy, Orlando Poléo, Rick Latham, Robert Sput Searight, Rodney Holmes, Ron Thaler, Simon Phillips, Steve Houghton, Tim Alexander, Trilok  Gurtu…